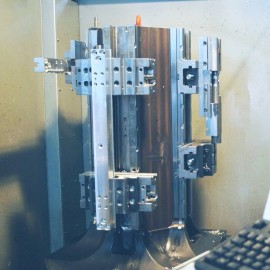 Flexible clamping technologies
MAM – Flex-Tower and zero point clamping system. Higher precision, faster set-up, fewer errors
To keep the eye on the ball in the age of industry 4.0, manufacturing companies need high flexible and adaptable means of production. The use of intelligent clamping technology has great potential to increase productivity.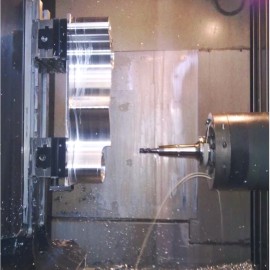 Productivity increase by reduction of clamping times
The software-supported FlexTOWER enables a significant reduction in set-up time. This is achieved by modular clamping elements, which are easy to change and programmed to the zero point. Through the use of 8 double vices, a high number of components are achieved and each side can be assigned with different orders. Small, recurring lots can be produced more cost- effectively.
Zero-point clamping systems that avoid errors and save set-up and machining time!
Increased productivity due to shorter preparation time
The extreme accurate body with zero point locators for fixtures is made of one piece. The geometry has been optimized for the Y-stroke of the machine. This results in better access at shorter tool lengths and higher feed rates with less vibration at the same time. High-precision results can be achieved economically.
Productivity example workpiece: bearing block
Convencional Tower
230 sec. cutting time
Demand: 5 FMS storage places
61 min pallet storage time for unmaned operation
Flex Tower
165 sec. cutting time (time spend 28%)
Demand: 1 FMS storage places
220 min pallet storage time for unmaned operation