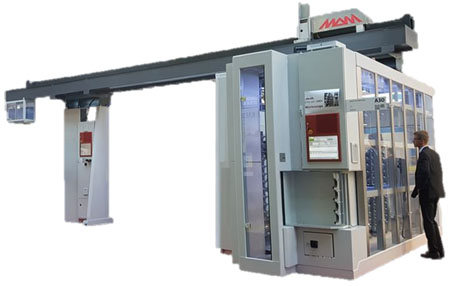 MAM – CTA | Central Tool Automation
Gantry loader Robot – flexible linking of magazines
The portal robot system CTA is designed for the flexible, fast, space-saving and a central supply and administration of tools. It communicates with all MAM matrix magazines, MAM pallet systems and all MES and ERP systems and thus enables absolute flexibility in unmanned production shifts.
Linear Robot: Speed: 10m/sec
Video CTA-50
Total flexibility in tool automation
The CTA Central Tool Automation system covers all aspects of flexible manufacturing and combines up to 20 different matrix magazines with up to 1020 storage positions each.
Always supports your decisions
With the aspect of using the CTA it is possible to use smaller magazines without to restrict your production planning. Decide for yourself, which tools are to be used by which machines and reduce your capital commitment by dividing expensive tools among several machines.
High availability right from the first resource planning
The CTA supplies tools with an acceleration in X of 10 m/s², a speed of up to 10 m/s and an acceleration significantly more than 20 m/s². The fully integrated robot is controlled by the HPPS pallet system, which means that all your resource planning is included and tools are automatically brought to the machine immediately after planning.