State of the art Automation 2021 – das FX
Das MAM FX ist Ihr Schritt in eine "State of the Art" unbemannte Produktion. Standardfunktionen wie der automatisierte Up- und Download von CNC-Programmen, die einfache Bearbeitung von Aufträgen in Echtzeit und der leistungsstarke Highspeed-Roboter für Transferlasten bis 1500 kg machen den FX zum technologischen Vorreiter.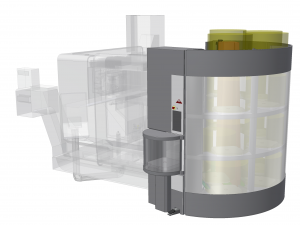 Das FX verwendet einen effizienteren, zuverlässigeren und nahezu wartungsfreien Servomotor-Roboter.
Der solide Stahlrahmen und Servomotoren mit bekannten Komponenten aus dem Werkzeugmaschinenbau  ermöglichen höchste Beschleunigungen und eine genaue Positionierung über die gesamte Lebensdauer bei niedrigen Betriebskosten.
| | | | | |
| --- | --- | --- | --- | --- |
| Dimensionen | FX-3-33 | FX-4-33 | FX-5-16 | FX-6-16 |
| Palette (mm) | 250×400 | 400×400 | 500×500 | 630×630 |
| Speicherplätze | 33 | 33 | 16 | 16 |
| Werkstück (mm) | Ø350×400 | Ø630/500 | Ø900/800 | Ø1200/900 |
| Transfergewicht (kg) | 300 | 300 | 600 | 1200 |
| Systemhöhe (mm) | 2990 | 2990 | 3058 | 3980 |
| Grundfläche (m) | 2,7×1,99 | 2,7×1,99 | 3,4×2,3 | 5,2×3,6 |