State of the art automation 2021 – the FX
The MAM FX is your step into a "state of the art" unmanned production. Standard functions such as automated up- and download of CNC programs, simple processing of jobs in real time and the powerful high-speed robot for transfer loads of up to 1500 kg are making the FX a technological pioneer.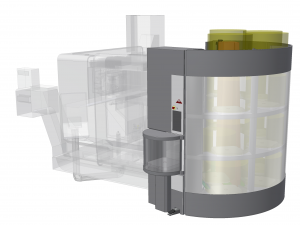 The FX uses an efficient, more reliable, almost maintenance-free servo-motor robot.
The solid steel frame and servomotors with well-known components from the machine tool industry enable maximum accelerations and precise positioning over the entire service life among low operating costs.
| | | | | |
| --- | --- | --- | --- | --- |
| Dimensions | FX-3-33 | FX-4-33 | FX-5-16 | FX-6-16 |
| Pallet (mm) | 250×400 | 400×400 | 500×500 | 630×630 |
| Storage places | 33 | 33 | 16 | 16 |
| Piece (mm) | Ø350×400 | Ø630/500 | Ø900/800 | Ø1200/900 |
| Transfer weight (kg) | 300 | 300 | 600 | 1200 |
| Height (mm) | 2990 | 2990 | 3058 | 3980 |
| Floorspace (m) | 2,7×1,99 | 2,7×1,99 | 3,4×2,3 | 5,2×3,6 |