Mobile Ressource Organizer – MRO
The Mobile Resource Organizer, MRO for short, is, like all MAM products, perfectly adapted to the needs of optimized flexible production. Via industrial W-LAN you receive all necessary information about wear and service life of all tools as well as the tool requirements required in all tool magazines in the future.
Prioritizes independently decision proposals
The striking colorings make it easier to distinguish between broken, missing or worn tools.
The sorting sequence can be carried out for a certain number of jobs for a machine or a machine group and allows an immediate decision on which tools are to be relocated in which magazine without laborious comparisons.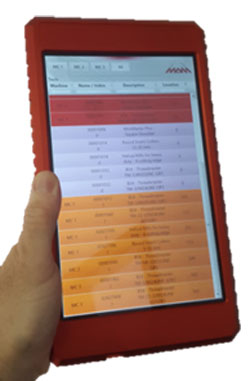 Tool status at a glance:
Resource scheduling: Shows all critical tool status of all magazines sorted by urgency.
Production-supporting: Ensures that all tools for an unmanned production shift are available on weekends.
Real-time visualization: Immediate reaction to disturbances, Interruptions, delays etc. in the production process.